Daily immune support and antiviral
Sometimes called "Indian Echinacea", Andrographis is a herb native to South Asia that has been in use for thousands of years in Ayurvedic- and Chinese medicine. It is valued in herbal medicine for its anti-inflammatory and immune-boosting properties, making it useful in any type of infection. Modern studies have shown that it benefits upper respiratory tract infections, and that it has antiviral properties.
KEY BENEFITS:
=  Antiviral
=  Immune support
=  Antibacterial
=  Antiparasitic
=  Antipathogenic
=  Antipyretic (reduces fever)
=  Liver support
=  Digestive tonic
The primary active ingredient in Andrographis is andrographolide, a bitter diterpenoid lactone with proven antiviral effects. Andrographolide has a wide range of recognized biological effects in scientific literature, including:
·        Anti-inflammatory
·        Antibacterial
·        Antimalarial
·        Hepatoprotective
·        Antineoplastic
·        Immunomodulation
·        Antithrombotic
ImmuGraphis by NeoGenesis Health contains a 30:1 Andrographis extract, standardized to 10% andrographolide, providing 40mg andrographolide per capsule.
For more details on the benefits, therapeutic applications, and clinical studies on Andrographis and andrographolide, please refer to the additional information below.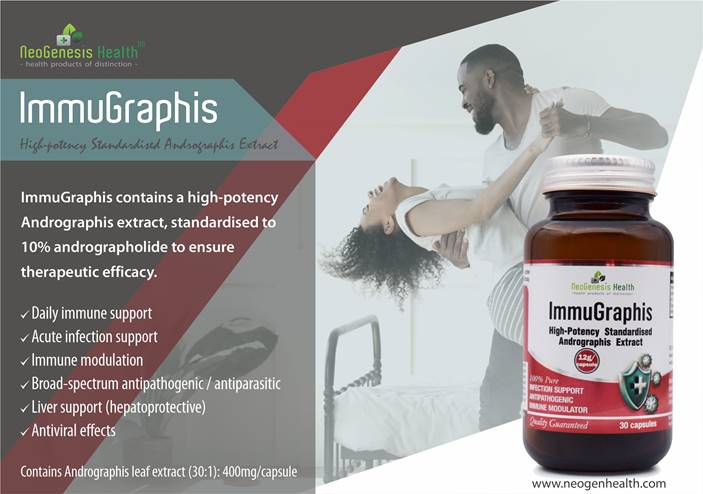 Pack Size: 30 capsules (500mg vegicaps)